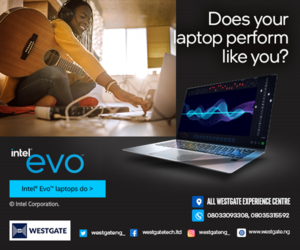 Read Time:
3 Minute, 28 Second
Muyiwa Adeseyoju, Country Managing Director, DHL has outlined 5 fundamental issues affecting Nigeria's e-commerce industry despite its promising outlook. 
The current e-commerce spending in Nigeria is estimated at $12 billion and is projected to reach $75 billion in revenues per annum by 2025
Muyiwa who leads DHL in Nigeria, a global leader in the logistics industry, specializing in international shipping, courier services, and transportation said e-commerce in Nigeria has thrived in the last 10 years with underlining problems.
Muyiwa, a panelist at the Jumia 10th anniversary spoke on the topic: "The Promising Future of Nigeria's Logistics Sector," said e-commerce has transformed rapidly by leveraging technology in the last decade and will continue to evolve.
According to Muyiwa, there are 4 to 5 fundamental issues affecting e-commerce, especially in Nigeria – the setup, cybercrime, payment, postal system, and logistics.
"As for e-commerce, there are so many challenges, but we live in a short space of time, I would like to just mention, maybe like four or five of them. And I would like to start from the major, which is set up."
Muyiwa said setting up an e-commerce platform is very challenging in Nigeria's current environment, where there is a conspicuous dearth of knowledge and skills to even try to set up in the first place.
"So that's the first challenge that I think is very fundamental. Although a lot of experience has been built now. So, it is a bit easier to leverage tech solutions. That challenge is a bit of being mitigated at this time."
Another challenge is cybercrime. In Nigeria, several Internet-assisted crimes are committed daily in various forms such as fraudulent electronic mails, pornography, identity theft, hacking, cyber harassment, spamming, Automated Teller Machine spoofing, piracy, and phishing.
Muyiwa said cybercrime is very huge in the e-commerce business. "There are some guys who are the bad boys of society who are just focused on breaking down your platforms. So that is a big challenge.

He said the bad boys deploy all cybercrime tactics to defraud people of their money which is a big issue for e-commerce businesses in the environment.
The challenges of poor logistics and infrastructure gaps are also fundamental issues limiting the development of e-commerce.
According to Muyiwa, regardless of the finest business model an e-commerce business adopts, there is still a need to figure out the most effective and timely ways of moving goods from point 1 to point 2.
"You need the business logistic partners to enable you to move those stores from point A to point B and that's a big challenge on his own. Because if there are two or three options you might like to consider different options such as express, freight forwarding, etc., which comes at a premium."
He added, "If you want to run an e-commerce platform – logistics wise, and pricing, you need to get all the formula right otherwise you can be out of business in no time, especially for small and medium scale enterprises that are just trying to start up."
Another fundamental problem according to Muyiwa is payment. "A small business might decide to adopt the cash model, that cash payment on delivery, but it has challenges too in this country."
When dispatch riders deliver packages, they are in many cases delayed because of payment. When they get there, the customer starts running around to any POS vendor or ATM to withdraw cash and make payments. There are times that the transaction fails which affects payments.
Further, he explained that the postal address system is the first challenge that dispatch riders encounter trying to locate the customer. "When they get there, they will have to be calling the customer to find out the exact address.
Concluding, he said, there have been improvements on some of the issues, especially on payment.
"For again, there's a lot of improvement now there are lots of debit card or credit card now that works on ATM, POS making it possible to collect money as quickly as possible.