Nigeria recorded its highest active domain names in a single month in January 2023, TechEconomy can report.
The addition of 7,082 new domain names to the .ng registered in the month of January, took the country's active domain numbers to 184,425.
ALSO READ: Top Seven Costliest Domain Names in History and their Monthly Traffic revealed
With this number, Nigeria recorded 1,298 more domain name registrations in January 2023 when compared to 5,784 registered in January 2022.
TechEconomy checks on Nigeria Internet Registration Association (NiRA) website show that 7,082 new registrations, 5,186 renewals, and 121 domain name restorations were recorded in the past month under review.
Also, 96,930 of them are active third level domain names. A third-level domain name also called "sub-domains" as they sometimes refer to, are specific sections or pages of a website.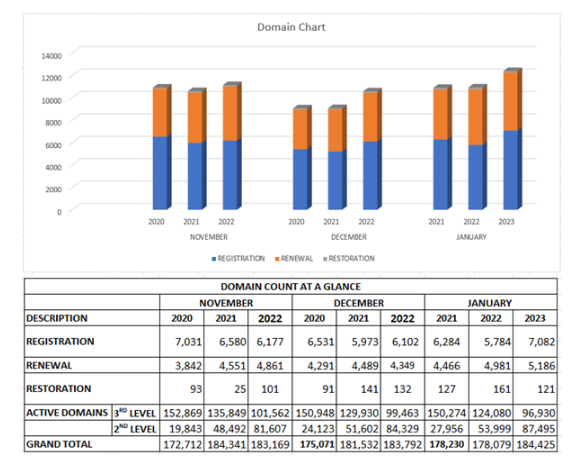 It is the part of a domain name or website address that comes before the second-level domain name.
The remaining 87,495 are Second Level Domain (SLD) names. SLD is the part of the domain name that is located right before a Top Level Domain (TLD).