Over the past 5 years, Nigeria's mining sector has played a pivotal role in propelling the country's GDP growth. In the fourth quarter of 2022, Nigeria witnessed a significant expansion of 3.52% in its GDP compared to the preceding year.
A KPMG report obtained by TechEconomy reveals that the mining sector has experienced significant growth in its contribution to Nigeria's GDP. In 2022, the sector accounted for 0.85% of the GDP, a substantial increase from 0.63% in 2021, reflecting an impressive 32% year-on-year growth.
The sustained growth of the mining sector in Nigeria's GDP underscores the efficacy of the policies and strategies implemented by the current administration.
However, further efforts are necessary to accelerate the sector's growth trajectory and position it as a formidable competitor to the oil and gas sector, which presently serves as the primary revenue source for the country. These endeavors are crucial for advancing Nigeria's diversification agenda.
The KPMG report emphasizes the importance of prioritizing the mining sector and implementing additional measures by the incoming administration. It recognizes the initiatives introduced by the Buhari administration while offering recommendations for further enhancements.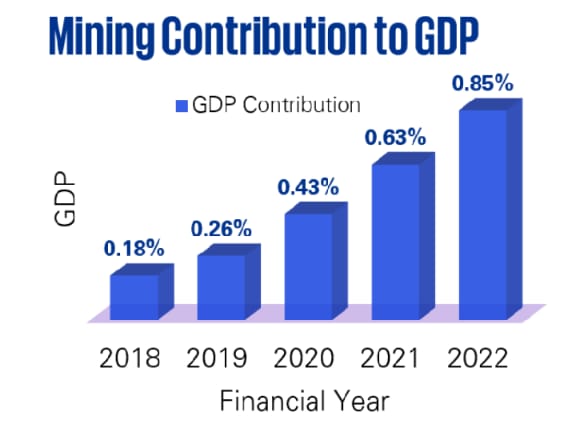 The report states, "It is important to commend the current administration and the leadership of the Ministry of Mines and Steel Development (MMSD) for their implementation of policies that have contributed to the sector's growth year after year, despite the challenges faced by industry operators."
How to Sustain Growth
The report further highlights the substantial potential of Nigeria's mining sector in fostering economic development, diversification, and industrialization.
However, the realization of these objectives relies heavily on the government's sustained political will to revitalize the sector and provide it with the necessary resources and infrastructure to operate efficiently.
To demonstrate the Federal Government's commitment to sustainable growth in the mining sector, several measures can be undertaken.
These include ensuring accessible and affordable funding, expediting the amendment of mining laws, regulations, and policies, providing reliable geodata, offering tax incentives and rebates, and enhancing security measures to safeguard mining operations.
"Considering the upcoming change in administration by May 29, 2023, significant progress is unlikely to be achieved by the current administration unless the pending bill receives an expedited hearing by the National Assembly and is enacted into law before the handover date," report said.
KPMG urged the incoming administration will need to build upon the foundation laid by its predecessor and capitalize on the gains already realized to sustain the established growth trajectory in the mining sector.
With unwavering dedication and collective efforts, the mining sector stands poised to become the driving force behind Nigeria's economic prosperity in the near future.