Mrs Kofo Akinkugbe, the Founder and CEO of SecureID Group, has urged young graduates of the University of Medical Sciences (UNIMED) Odosida Ondo State, to develop an entrepreneurship mindset, built on a relentless pursuit of excellence.
She made this statement while delivering her lecture at the 4th convocation ceremony, titled "Youth Entrepreneurship and Reshaping Nigeria's Economic Future", which was held on Thursday, February 2nd 2023 at the University of Medical Sciences (UNIMED) Odosida, Ondo State.
Mrs Kofo Akinkugbe emphasized that youth entrepreneurship is highly relevant to our contemporary situation regardless of one's discipline or academic background.
"For our graduating students, cutting across various health professions and science disciplines, you will no doubt relate well with the elements relating to "Youth and the Economy" as you rise to the challenges, we all face daily. Irrespective of the class of degree conferred, the important success factors for the future are linked to your vision, individual talent and the life skills you embrace along the way", She said.
Speaking further, she stated that sustainability is key and must be built on the right attitudes, wisdom, emotional intelligence, sound judgement, and learning from the experience of others, which must be anchored on some values she considers as evergreen and enablers of sustainable success and growth.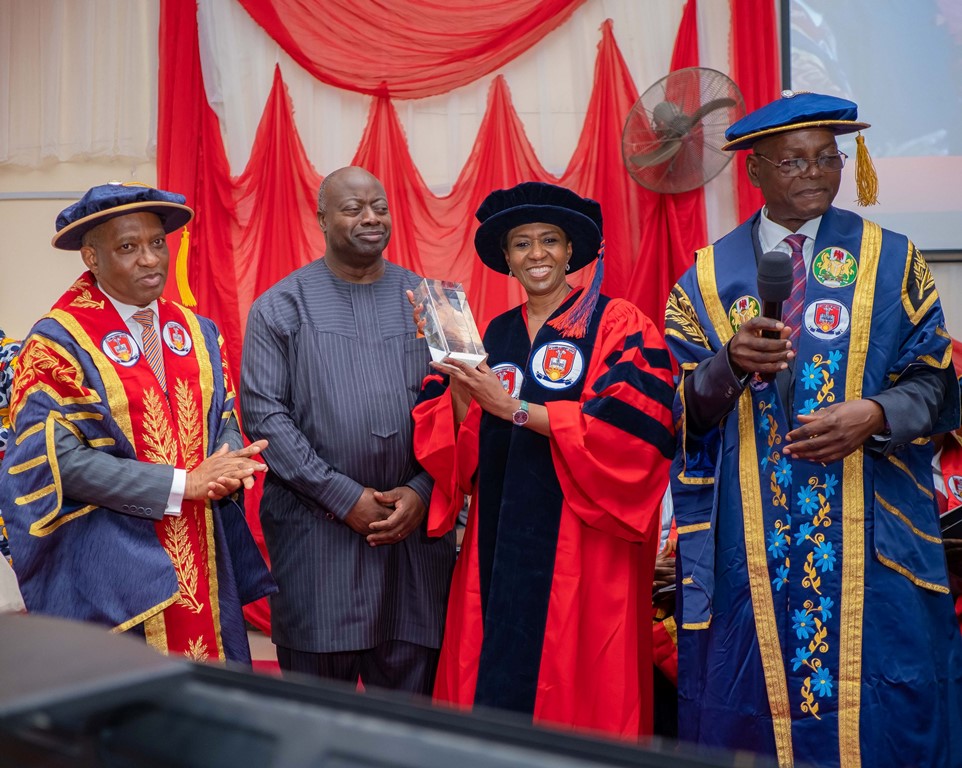 "As you know, your education is inadequate with academic work alone. The character component must kick in for completeness. Education is an enabler but without the right character it won't take you far" Akinkugbe stated.
She congratulated the graduating students and encouraged them to deploy their creative abilities, avoid negative influences, and recognize that success is a journey, not a destination.
"Nigeria is a land of huge and unexplored opportunities, digital and otherwise, and I encourage you to identify yours and position yourself based on your talent and interest."
Mrs Kofo Akinkugbe is a trail-blazing entrepreneur and the founder/CEO of SecureID Limited, a smartcard manufacturing and personalization company certified by MasterCard, VISA, Verve, ISO 9001, GSMA, GH-Link, GIMAC, CQM to manufacture bank ATM cards, telecom SIM cards and high-security identity cards and documents for the government, while serving clients in 21 countries across Africa.
SecureID has a technology and fintech subsidiary – SID Digital, with products such as digital identity, payments and automated fare collection for transport systems.
SecureID also has a transport subsidiary – Transport Payment Solutions (TPS) with e-gate and turnstile infrastructure installed on various transport platforms: rail, road and water.
In 2022, the Federal Government of Nigeria recognized the accomplishments and leadership of Mrs Akinkugbe by awarding her with the National Productivity Order of Merit (NPOM) award during the 19th National Production Day (NPD), on May 2022 at the Banquet Hall, State House, Asokoro Abuja.
On October 2022, Mrs Akinkugbe was conferred with Officer of the Order of the Niger (OON), at Nigeria's National Honours Awards Investiture, by His Excellency Muhammadu Buhari, President and Commander-in-Chief of the Armed Forces of the Federal Republic of Nigeria, in recognition of her invaluable contribution to the Nigerian Manufacturing and Digital Payment Industry.
Also, present at the UniMed Convocation ceremony were the Governor of Ondo state, Arakunrin Oluwarotimi Odunayo Akeredolu, SAN, CON and other eminent personalities, Captains of Industries and Academia.