Nigeria's laptop market has experienced a significant surge in price due to micro and macroeconomic factors with prices averaging at least 113 percent in nearly a decade, TechEconomy can report.
Nigeria's economic cases such as inflation, high exchange rate, lack of forex, tariffs, etc., have been increasingly fuelling the prices of laptops over the years. Then, currency devaluation, and government policies further exacerbate the situation.
Also, with the more pronounced embracement of technology and the trend of remote working since covid-19 pandemic, laptops remain a popular in-demand tool, serving as a better alternative to tablets and smartphones.
According to online checks, the average cost of a laptop ranges between N130,000 and N150,000. However, several features such as storage size, RAM, quality, sleekness, processing power, RAM capacity, hard disk capacity, operating system, optical storage type, display type and size touchscreen, fingerprint, etc., usually determine the cost of laptops.
Nigeria's Laptop Market
Despite some of the issues associated with the Nigerian laptop market, it is a promising one with significant potential for growth. Dealers and vendors that can navigate the challenges and offer high-quality, affordable laptops are likely to stay afloat in the market.
According to reports from Statista, revenue in Nigeria's laptops segment is projected to be US$2.22bn in 2023, while the market is expected to grow annually by 8.71% (CAGR 2023-2028).
Research Director with IDC's Mobility and Consumer Device Trackers, Nabila Popal, stated, "With increasing costs and ongoing challenges in consumer demand, OEMs are quite cautious about 2023.
"While there is finally some good news coming out of China with the recent reopening, there is still a lot of uncertainty and lack of trust, which results in a cautious outlook.
"However, we remain convinced the global market will return to growth in 2024 once we are past these short-term challenges as there is a significant pent-up refresh cycle in developed markets as well as room for smartphone penetration in emerging markets to fuel stable long-term growth."
Macroeconomic Issues
Nigeria's fluctuating exchange rate and rising inflation have been some of the microeconomic factors affecting the cost of laptops.
In 2015 Naira exchanged from ₦199 to $1, and a 9 percent inflation rate. Currently, the inflation rate is 22.04 percent, while the exchange rate today is N460 to $1.
Analysis of the inflation figure from 2015 to date shows that the country's inflation ballooned to approximately 131.16%. Laptops sold for N100,000 in that same year are currently sold between N200,000 to N250,000.
One of the laptop vendors in Lagos who spoke to TechEconomy on the condition of anonymity confirmed that the HP 2000, a laptop that was in high demand as of 2013 was out of stock. "This type of laptop is no longer in vogue," he said.
HP 2000 laptop in 2014 was sold for N50,000, the price ballooned to N77,000 – N85,000 in 2020. Today, laptops of such a model can be regarded as the old-school type of laptop with so much weight.
Due to Nigeria's reliance on oil exports and susceptibility to changes in the world oil market, devaluations of the Naira have been a fairly frequent occurrence. Several times during its history, Nigeria has depreciated its currency.
The Naira underwent a devaluation in 2020. The Central Bank of Nigeria (CBN) devalued the Naira from 307 to N360 per US dollar in March of that year, a 15% decrease.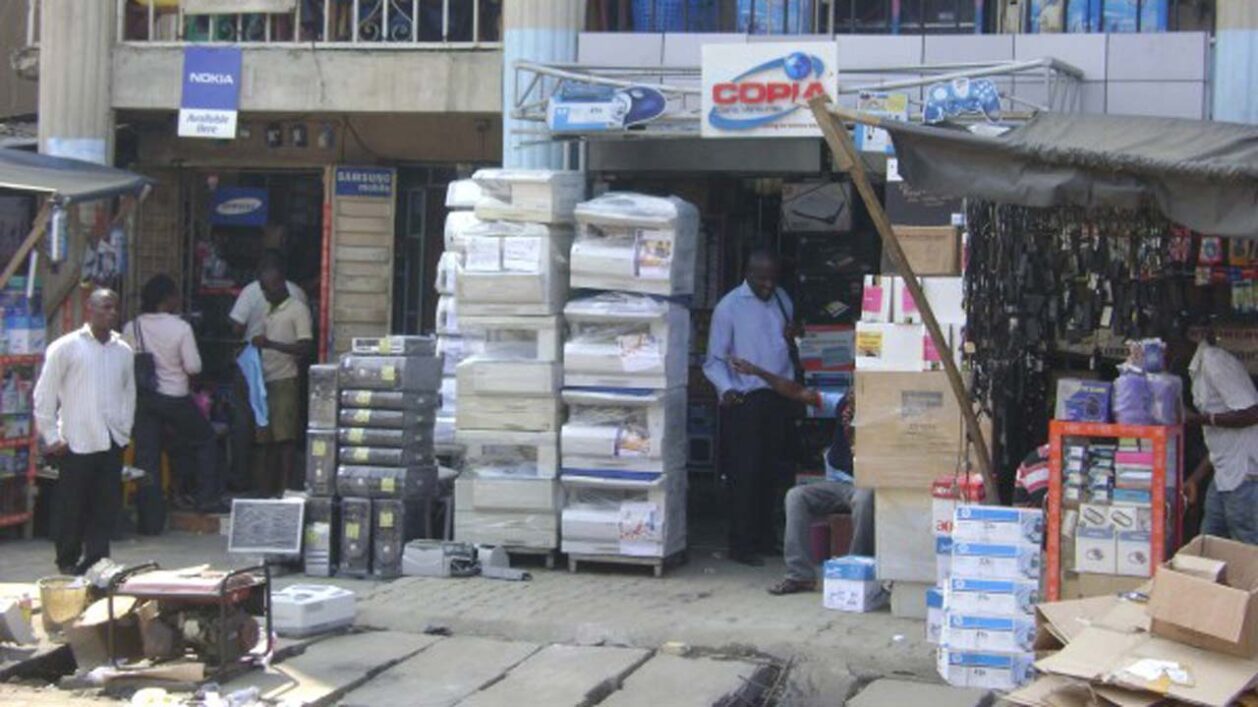 IDC's Senior Research Manager, Fouad Charakla, said countries such as Egypt, Pakistan, Nigeria, and Turkey have recently experienced devaluations of their local currencies against the U.S. dollar.
He said this raised the costs of imports, including those of personal computing devices, and will negatively impact demand in the aforementioned countries.
However, "despite these challenges, some massive education deals are expected to be delivered in both Pakistan and Egypt this year, while a large government deal is expected to be delivered in Nigeria," Fouad said.
Forex Scarcity & Shipping
Regardless of the several assurances and interventions by the Central Bank of Nigeria (CBN) to make forex available to importers and stabilize the local currency in the last three years, it has achieved little success.
The pressure on the naira has persisted as many Nigerians scurry to find dollars to pay for imports. Many importers have been compelled to turn to the black market as a result of the CBN's inability to meet demand on the official market, which has led to price increases.
The challenge of forex and naira fluctuation also extends the shipping cost. The cost of shipping raw materials and goods keeps increasing which eventually falls back on the buyer
"Without foreign exchange, people cannot place Form M and without Form M they cannot place orders and this will have a ripple effect on the economy." President of the Shippers Association of Lagos State, (SALS), Jonathan Nicol.
OEMs and Covid-19 Effects
OEMs ran out of supply as a result of the closure of Chinese manufacturing during the height of the Covid-19 outbreak, which caused a scarcity of computer chips. The laptop and car industries, among others, were severely impacted by this shortfall.
Every link in the value chain was impacted by the chip supply disruption, which also led to a scarcity of laptops, cell phones, and other electronic products.
Following the local government's directive, several manufacturers, including Foxconn Technology Group, a significant iPhone assembler for Apple Inc., said they were ceasing operations in Shenzhen.
Only a few paid-up orders were already being recalibrated for distribution in April/May or June of the following year, 2021, while the world's computer Original Equipment Manufacturers (OEMs) acknowledged that there were no simple remedies or quick ways out of the shortage.
As a result of the ordeal, manufacturers had to cope with supply chain disruptions for devices made by companies like HP, Lenovo, Dell, and Asus, among others, demand eventually exceeded supply, particularly in a nation like Nigeria.
BusinessDay market survey shows that prices of new laptops rose from 30 percent to 138 percent between the time Covid-19 cases were reported in March and October.
The price of an HP Notebook – 15- (Intel Pentium Gold 4417U) increased by 47 percent to N133,000 from N90,000, while the price of a normal HP Standard laptop rose by 18.2 percent to N65,000 from N55,000. More so, the price of a laptop brand known as Lenovo Idealpal rose by 113.3 percent from N75,000 to N160,000.
HP250G7 Intel Celeron laptop increased by 40% to N105,000 from the end of March's price of N75,000. Similar to this, over the same period, the cost of a laptop with the model number Intel Core I3,8GB rose by 10.4%, from N480,000 to N530,000.
However, it is projected that earnings volatility will decrease in 2023 based on research done by JP Morgan Research. The strong price power of the original equipment manufacturers (OEMs) is to blame for this, which has led to more stability and growth overall.
A more lucrative year for the industry is anticipated as a result of this stability, which is also anticipated to increase supplier profits momentum.
OEMs anticipate a normalization phase in terms of demand, which is a typical event when exiting an era of exceptionally high demand and low supply.
China as the Biggest Exporter
Ambassador of China to Nigeria H.E. CUI Jianchun, wrote in an article titled "China-Nigeria Cooperation in the New Era," that Nigeria's trade reached 25.68 billion USD, rising 33.3% year on year, and Nigeria's exports to China reached 3.04 billion USD, rising 22.4% year on year.
Currently, Nigeria is China's third largest trading partner in Africa, and China is Nigeria's largest source of imports. Nigeria imports laptops from many different nations, including China, the US, Japan, South Korea, and Europe.
However, China now accounts for more than 80% of all laptop imports into Nigeria, making it the country's primary supplier in recent years. This is mainly because a lot of Chinese producers offer inexpensive laptops that are excellent for Nigerian consumers' and enterprises' wants and budgets.
High-quality computers are additionally sold to Nigeria by nations including the United States, Japan, South Korea, and Europe, however at a greater cost.